Fish Anna Maria For Tarpon
Anna Maria Island Fishing with Captain Mike's Fishing Charters offers some of the best year round game fishing anywhere. The Tampa Bay area south through Sarasota Bay and the Gulf of Mexico serves as a premier destination for any discerning angler.
Tarpon fishing is one of the most exciting species a fisherman can catch. They are spirited monsters that make catching one a lifelong memory. Summertime brings the highly prized "Silver Kings" to our area as they move north and south along the beaches and into the passes separating our barrier islands. Contact us and book early to reserve Captain Mike for a day of tarpon fishing.
Fish A Favorite – Florida Snook
Catching the elusive snook is a fisherman's dream whether you snag them on the beaches or the flats. Fishing for snook in Florida is limited to March through April, and September through November. Captain Mike knows where they hang out and what they're biting. Catch a snook and you'll be hooked for life.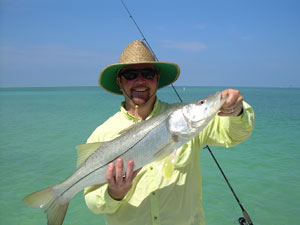 Spring and Fall Fishing with Captain Mike's Charters
Spring and fall are by far the finest weather seasons in Florida and some of the best fishing is found during that time. Kingfish, grouper, amberjack, cobia, shark and snapper seem to agree as they migrate to our waters in schools. During the winter months, or "season" as we call it, you'll see the abundance of grouper, snapper and amberjack as they school up on the shallow offshore reefs that dot the Southwest Florida Gulf coast.
On board with Capt. Mike's Fishing Charters you're also going to see a wide variety of Florida wildlife and wildlife habitat. As you head along the beaches and bays, you'll see grass flats teeming with sea life, black and red mangroves, golden saw grass and river tributaries. The grass flats extend out as far as ten miles into the Gulf of Mexico providing the ultimate in flats fishing using light tackle.
Enjoy Paradise – Anna Maria Island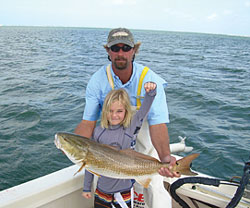 You'll have competition fishing Anna Maria. The west coast of Florida boasts several species of heron running in size from the Great Blue's to the smaller and comical Green Heron. The hunters – hawks, egrets and Bald Eagles – also call our area home. There's a variety of gulls, terns, pelicans, and we're seeing growing populations of the lovely white and pink Roseate Spoonbills.
Florida's West Coast also boasts some of the finest beaches in the world. Aside from the "cities" of Sarasota, Bradenton and the greater Tampa Bay area, our little piece of Anna Maria Island paradise is comprised of a series of barrier islands and close-knit communities that have preserved their own quaint, small town feel. If you're thinking of staying a few days, weeks or months and want to choose from a variety of Anna Maria Island vacation properties, visit www.mikenormanrealty.com, as they are sure to have whatever accommodations you need.
Captain Mike's Fishing Charters is located about two hours from the Orlando area attractions and about one hour from Tampa attractions. The Tampa International Airport (TPA) and Sarasota/Bradenton International Airport (SRQ) offer direct flights from almost anywhere, so getting to fish Anna Maria and her surrounding waters is easy!
Contact Captain Mike's Fishing Charters today or call 941-778-1404 to book your next Florida fishing adventure.